Studio B Stained Glass is owned and operated by Mary Beth Alphin. A member of The International Guild of Glass Artists, her love of stained glass began in childhood in church. She has created beautiful windows and hangings for homes from California to Maine.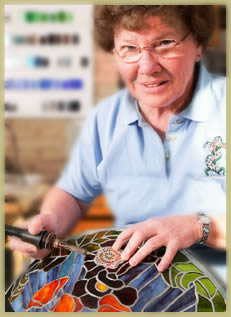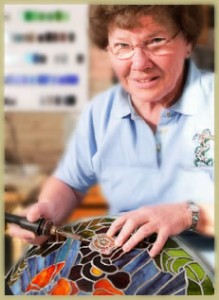 The wonderful quality of glass is that it is ever-changing, depending on the background color and the angle of the viewer. Using combinations of translucent, opalescent and/or iridized glass, windows take on a living quality. They change with the sky and background, (link to 2 pictures of the same window) Stained glass used in cabinets and interior doors can appear very different depending on the angle of the viewer. Mary Beth says, "It's fun creating these constantly changing works of art."
Memorial windows such as those created for the Legacy Room at St. Andrew Presbyterian Church in Williamsport, Maryland, are variations on the many forms of a cross, (View Crosses ) Pet memorial windows (View Pet Memorials ); windows relating to a person's interests (View Lighthouse ) or even to someone's vacation home (View Vacation Cottage ) are among the windows from Studio B Stained Glass.
Mary Beth has hundreds of glass colors and patterns in stock. Once a design is selected, she works with the customer to determine colors and patterns. Each stained glass panel is unique.
We hope that you will consider Studio B for your gift or stained glass project and invite you to call us at 301-992-2222.